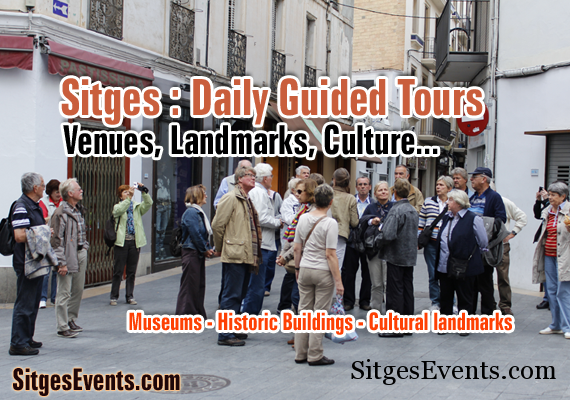 All subject to change

Guided cultural activities Palau [Read More…]
---

Monestir Budista del Garraf, Apartado de correos 226, Olivella, 08818
(0034) 902 503353 – (0034) 937 432 010
From Monday, 20 May 2013 To Wednesday, 31 July (some tours to Nov)
CLOSED MON

Guided cultural activities Guided [Read More…]
---
Cinetik! (Exhibitions)
Pl. de l'AjuntamentSitges, Sitges, 08870
From Saturday, 27 April 2013 To Sunday, 27 October 2013
museusdesitges.com Tel. 938940364 museusdesitges@diba.cat
CLOSED MON/TUE/WED
---
"Neandertals a Catalunya" (Exhibitions)
Edifici MiramarC/ Davallada, 12, Sitges, 08870
08/06-28/07/2013
---
"Els germans Albors" (Exhibitions)
Edifici Miramar C/ Davallada, 12, Sitges, 08870
From Friday, 31 May 2013 To Sunday, 28 July 2013
M. D. Rubió (Galleries)
Àgora 3 C/ Nou, 20 Sitges 08870 Free Admission
Info: agora.es
03/07 – 31/07
CLOSED MON/TUE
---

Americanos & Facundo Bacardí
Must be booked in advance (Minimum 10 persons)
Day on demand : subject to notice & availability

A tour to discover the life and anecdotes of the citizens of Sitges that left to Cuba to make fortune and in going back built Neoclassic, Eclectic and Modernist mansions. A guided route where we will see sumptuous houses and will discover the life of the "Americanos".
We will focus on the figure of Facundo Bacardí, a great visionary, that thanks to his strength of will and perseverance created the most sold rum all over the world. We will finish this tour entering into the "Casa Bacardí" where they will show the preparation of this product.
Duration: 2 h. Approx.
Languages: Catalan, Spanish & English.
Price: 12 € / Person
Info and reservations:
AGISitges. Tel. 619 793 199 – www.agisitges.com
MEETING POINT Location : Placa Eduard Maristany, Sitges, 08870 (near station)
---
Ricardo Moraga (Exhibitions)
Hotel Estela Barcelona Av. Port d'Aiguadolç 8, Sitges, 08870 http://www.hotelestela.com/en/arte-eng.html Free Admission
DAILY
The Amazing World Summer Esplai 2013… for 9-12 Year Olds!
on Monday. Sitges in Sitges Monday, 1 July 2013
Owls Education is really excited to announce that for children aged 9-12 we will be running daily, four hour sessions each week throughout July.
---
Guided tours
Get acquainted with the town of Sitges and its surroundings via guided tours via Sitges Tourism Office.
Tel: (+34) 93 894 4251 email: info@sitgestur.ca
Sitges in the times of Modernisme
Sitges and Cau Ferrat – Modernista painter and writer Santiago Rusiñol's home-cum-workshop – were, one hundred years ago, a meeting place for intellectuals and artists who, through Modernisme, opened Catalonia up to the most innovative trends of the day.
Cau Ferrat is a synthesis of that total art defended by the modernistes: painting, music, decorative arts and literature.
Americanos Route
A guided tour to discover the colonial-style homes built in the late 19th century by Sitgetans who left to make their fortune in America. The return of those who were successful in their overseas adventure strongly marked their hometowns.
Spirits Route
A tour of a more intimate Sitges, from the center of town to the old cemetery, where you can enjoy commemorative sculptures of great artistic importance from the late 19th and early 20th centuries: works by Josep Llimona, Frederic Marés, Manel Fuxà, Agatip Vallmitjana, among others make up this artistic ensemble where the Americanos were buried.
Old Quarter Route
To discover Sitges' origins we must take a walk around its old quarter. You'll discover remains of ancient ramparts, the Racó de la Calma (Quiet Corner), the old fishermen's homes, the cannon, plus you can visit Sitges' different museums: Cau Ferrat Museum, Maricel Museum and Palau Maricel.
Route of the Malmsey wine
A tour of the Sitges Sant Joan Baptista Hospital–built in 1912 by modernista architect Josep Font i Gumà- brings us closer to this institution's history. On the hospital grounds we can find the cellar where the famous malvasia, a traditional sweet wine from Sitges and a Llopis family legacy, is made. Includes a tour of the Llopis family house and wine cellar, today the Romàntic Museum.
Terramar Route
A tour of the Terramar area allows us to get acquainted with its history, while enjoying its architectures and Modernista Gardens.
With the support of the Town Council, in fall of 1918 an industrialist from Sabadell named Francesc Armengol i Duran promoted the development of Terramar, Catalonia's first garden city project –Catalonia garden-, inaugurated on April 8th, 1933. Most of the buildings were constructed by architect Josep Mª Martino i Arroyo, and this was how Sitges became one of the main centers of Catalan noucentista architecture.
Further information at the Tourism Office, (+34) 93 894 4251 and info@sitgestur.ca